15 April 2020
Updated 26 November 2020
The best way to prevent coronavirus infections is to maintain a distance of 1–2 metres to other people and to wash hands frequently with soap.
Based on a risk assessment by your employer or in accordance the Finnish Institute for Health and Welfare's recommendation on face masks, you may need a respirator, a surgical mask or a face mask. This page provides information on surgical masks and respirators.
The mechanism of transmission impacts the need for protection
The novel coronavirus is mainly spread as a droplet infection when an infected person coughs, sneezes, sings, laughs or speaks. The virus may also transmit from an infected person directly via touch. The virus can also be transmitted through contact with surfaces that have recently been exposed to the respiratory secretions of an ill person.
There have been some indications in studies of the airborne transmission of the coronavirus (COVID-19). This means that, in addition to larger droplets, respiratory secretions also create very fine droplets that remain suspended in the air as an aerosol. The risk of airborne infection is considered to be lower compared with droplet infection. It is unclear how significant the airborne transmission pathway is in reality, how long the virus can remain infectious in the air and what the significance of air conditioning is related to infections.
Sufficient distances between people, restricting the number of people in a space and good air conditioning decrease the risk of infection in daily life.
When do you need protective equipment or a mask?
THL has recommended the use of masks in certain situations and provided guidelines on how masks should be used. The purpose of a mask is to protect other people from the mask wearer's respiratory secretions. The goal of using masks is to limit the disease from spreading in the population. In order for using masks to have an impact, as many people as possible must comply with THL's recommendation on the use of face masks and any possible instructions regarding the use of masks provided by their employer. Using masks must not cause incompliance with other guidelines regarding the prevention of COVID-19.
Recommendation on the use of face masks by the Finnish Institute for Health and Welfare
The Finnish Institute of Occupational Health's Guidelines for workplaces to prevent coronavirus infection.
In any long-lasting situations where safety distances cannot be maintained, as many people as possible should wear a surgical mask or other face mask.
Disposable masks made out of cloth and fibre work well in these situations. The use of FFP standard respirators is generally not recommended in such situations. It must be ensured that there are enough of these masks for work tasks in which they are strictly required. A need for protection against hazardous airborne impurities may occur, for example, in industrial and construction work.
Employers assess risks at workplaces
Based on their risk assessment, an employer may find that respirators or face masks are required if the work requires being within a distance of one metre from colleagues or clients and especially if the nearby person is not part of a small group of colleagues the person encounters daily.
The employer's risk assessment may be affected by the regional infection situation as well as contact with people who come to the workplace from abroad. The employer is especially required to care for employees that belong to risk groups, as defined by a medical doctor, for whom falling ill may have serious consequences. Employees must follow the safety instructions provided by the employer. See the FIOH guidelines on risk assessment and for supporting returning to work.
Surgical masks, eye protectors and FFP standard respirators in nursing care
Droplet infections have long been prevented in healthcare by using surgical masks and eye protectors, such as face visors, in accordance with droplet precautions. See THL's classification of precautions (in Finnish). The actual purpose of surgical masks is to prevent the respiratory secretions of the nursing staff to spread into the patient's surgical wounds, respiratory tract and mucous membranes as well as surrounding surfaces. Surgical masks do not protect the user from airborne aerosols or very small particles.
An FFP standard respirator is required to protect against the coronavirus mainly in treatment facilities of COVID-19 patients when performing aerosol-generating procedures or where so-called air precautions are otherwise required. See THL instructions: What to do if you think you might have coronavirus.
Visors, masks and respirators
Face shield or face visor
A face visor is a piece of personal protective equipment that is meant to protect from splashes of liquid (figure 1). It protects the face, eyes, nose and mouth from any droplets that fly towards the face. There are no studies on its effectiveness in protecting against the coronavirus. The challenge related to using a visor for protection against the coronavirus is maintenance unless disposable visors are used. Keeping visors clean requires good motivation. The outer surface and edges must be always disinfected when removing the visor. The entire visor must be washed with water and soap, rinsed and dried at least once per day. The face shield must be CE marked and come with instructions for use.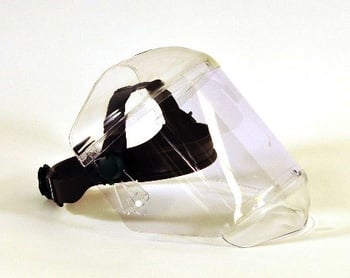 Figure 1. Face shield or face visor
Cloth face masks
A face mask may protect others by reducing the spread of droplets when coughing and sneezing. Cloth face masks can typically be used several times. They must be washed after each use.
See Information on cloth face masks (FIOH)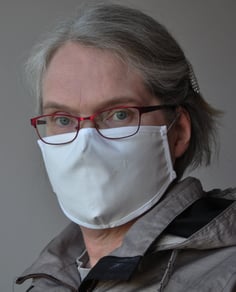 Figure 2. A cloth mask
Fibre masks
Face masks that resemble surgical masks which are made out of a polymer material that is not produced by weaving or knitting. These are often called fibre masks. They may be called surgical masks only if they fulfil all the requirements set for surgical masks. Fibre masks have the same purpose as cloth face masks. The filtration efficiency of the material may be better and the breathing resistance lower than that of cloth face masks. However, this cannot be known unless the manufacturers report test results and methods. Fibre masks are intended to be disposable unless they have instructions for use include instructions for cleaning.
Requirements for fibre masks and cloth face masks available for sale
They must not compromise the health and safety of the user.
They must feature the name of the manufacturer, distributor or importer.
They must include instructions for use.
The packaging or instructions for use must mention the intended purpose of use, which cannot include any suggestion that the mask protects its wearer.
No reference to surgical masks or respirators may be made. The product information may, for example, list the filtration capacity and breathing resistance and describe the method, but there must be no references to standards of personal protective equipment.
The product must not be CE marked.
Please find further information from Tukes: Respiratory protective equipment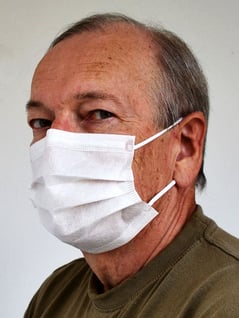 Figure 3. A fibre mask. Fibre masks look like surgical masks. The difference is in their filtration capacity, packaging labels and instructions for use.
Surgical masks
Surgical masks must fulfil the legal requirements set for medical devices and supplies. Surgical masks comply with requirements of the standard EN 14683 and the general requirements set for class I medical devices and supplies. A surgical mask must be registered as a medical device. Once the requirements have been fulfilled, the manufacturer puts a CE label on the surgical masks. There are some exceptions to normal procedures due to COVID-19. See Fimea's website.
Surgical masks can be purchased for use by consumers or employees. Surgical masks cannot be used if, based on a risk assessment, employees require respirators to protect against airborne aerosols. If surgical masks are sold for any use outside of healthcare they must include instructions for use.
In accordance with the standard EN 14683:
A Type I surgical mask is placed on the face of a patient during, for example, an epidemic or pandemic so that they do not infect other people.
A Type II surgical mask is used in operating rooms and other medical situations to protect the patient from the respiratory secretions of nursing staff.
A Type IIR surgical mask also protects its user from blood splatter at blood pressure.
According to the Finnish Institute for Health and Welfare, surgical masks (type II and IIR) are used in so-called droplet precautions when respirators that protects from aerosols are not necessary.
Instructions for use of surgical masks
Put on with clean hands. The nose clip, which is the stiff part in the upper edge of the mask, must be at the top edge when wearing the mask. The folds usually point downwards when looking from the outside (see instructions for use.) The upper strap is set on the back of the head and the lower one behind the neck or ear loops are placed around the ears. The lower edge is pulled under the chin (figures 2 and 3.) The nose clip is pressed with two fingers on both sides of the nose so that it adapts to the contours of the face.
Should not be touched during use. If touching the mask is necessary, hands must be cleaned before and after touching.
Take off with clean hands by grabbing the straps and put into mixed wasted followed by washing hands. If it is possible that the location where the mask is taken off does not have a mixed waste bin, the user must have with them a plastic bag to transport the surgical mask to a mixed waste bin.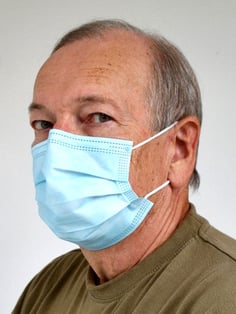 Figure 4. Type II surgical mask put on correctly: the lower edge pulled under the chin, folds downward on the outside surface and nose clip bent to fit the face.
FFP standard respirators or filtering half masks
An FFP standard respirator can be identified because it features
identification of the equipment, the standard EN 149 (and the year of publication of the standard at the time of type approval) as well as the classification FFP1, FFP2 or FFP3.
a CE label followed by four numbers, which correspond to the facility that regularly assesses the conformity of the manufacturing process.
instructions for use that includes the contact information of the facility that conducted the EU type examination.
the name, FFP class, end of storage period and storage conditions as well as the contact information of the manufacturer and EU importer printed on the packaging.
The user must read the instructions for use. They include information cleaning and disinfection methods if the equipment can be cleaned. Usually this information is not available which means the equipment cannot be cleaned. Once the storage period of the equipment has been exceeded, the manufacturer is no longer responsible for it being protective. The vendor of the equipment may not repackage the equipment in smaller batches in packaging that does not have the required labels.
You may file a report to the market surveillance authority of the Regional State Administrative Agency regarding any FFP respirator meant for the workplace that has, for example, inadequate labels or instructions of use. For consumer products the report is filed with the Finnish Safety and Chemicals Agency Tukes.
In protecting against COVID-19, FFP standard respirators are used disposably. The equipment features labels regarding uses other than the prevention of infectious disease:
NR (non-reusable) – the equipment is intended to be used for the duration of one working day at most.
R (re-usable) – the equipment can be reused for several days, unless in becomes clogged during use or becomes unhygienic for some reason.
Equipment labelled with D has passed a clogging test conducted with dolomite.
The equipment may not cause its user adverse health effects, such as skin irritation or allergies. No testing is required, but the manufacturer must give their assurance that the product is designed to be safe as part of the EU type examination. However, skin irritation may still occur in continuous use due to chafing. Continuous use may also cause a headache or irritation of the respiratory tract.
Persons with respiratory, heart or cardiovascular diseases may find it difficult to use respirators. Use during work requires that ergonomics and the user's health is taken into consideration when choosing the protective equipment.
An FFP respirator does not provide protection from airborne aerosols if it is not placed tightly on the face. The model must fit the face well and there may not be any hair under the edges.
Instructions for using FFP respirators for protection against the coronavirus
Put on with clean hands. See the Finnish Institute of Occupational Health's instructions or print them where the equipment is put on: Instructions (in Finnish) on putting on a filtering half mask (FFP3).
Should not be touched during use. Wash your hands before and after if you touch the mask.
Take off with clean hands by grabbing the straps and put into mixed wasted or a plastic bag followed by washing hands. The plastic bag with the used mask in it is put into mixed waste.
FFP respirator with no exhalation valve
The FFP2 model pictured below in figure 5 does not have an exhalation valve. It can be used for a shorter time than a model with an exhalation valve. A model with no valve will become moist faster than a model with one. It protects both the user and other people from aerosols assuming that the mask is sealed tightly on the face.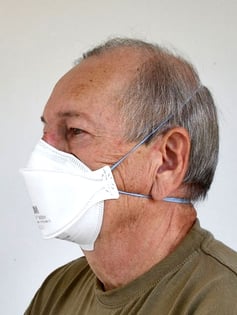 Figure 5.  An FFP2 respirator with no exhalation valve.
An FFP respirator with an exhalation valve
Figure 6 below shows a FFP3 respirator equipped with an exhalation valve. The valve makes use easier as the warm and moist exhaled air can escape the mask with very little back pressure.
FFP respirators equipped with exhalation valves are not recommended for situations where others have to be protected from the user's airborne respiratory secretions. There has not been sufficient research regarding the matter. There is only one reported research result that indicates that a mask with a valve protects people other than its wearer as well as a cloth face mask.
A valved model must not be used to protect other people from a person infected with COVID-19.
A person who, for health reasons, is not able to use a non-valved mask may use one that has a valve, for example, in public transportation. This requires that the person is able to use the model with a valve and that they do not have COVID-19 or symptoms related with it.
Models that do not have valves provide no extra benefit in situations where everyone wears well-fitting valved respirators. One such situation is when performing aerosol-generating procedures in the treatment of a COVID-19 patient. In these situations, the use of a valved model is essential for coping at work.
There are FFP respirators with a protective layer on top of the valve. These have shown to also fulfill the requirements set for surgical masks. Currently, such equipment is hard to come by due to the market situation. The Finnish Institute of Occupational Health does not recommend using a surgical mask on top of a FFP respirator in order to protect others from the user's respiratory secretions. The breathing resistance of such a combination of protective equipment is too great.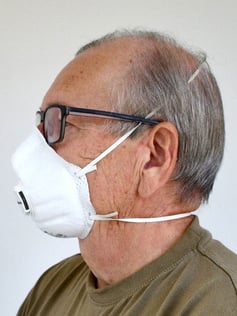 Figure 6.  An FFP3 respirator with an exhalation valve
Further information: Technical requirements of FFP standard respirators and surgical masks.
Further information regarding protective equipment manufactured by special permit
Policy on the sales of personal protective equipment that protects against the coronavirus (Finnish Ministry of Social Affairs and Health 26 June 2020)
Personal protective equipment manufactured by special permit available for sale soon (FIOH, press release 9 June 2020, in Finnish)
Exceptional personal protective equipment during the coronavirus epidemic (the Finnish Institute of Occupational Health, blog 12 June 2020, in Finnish)
Further information: viestinta@ttl.fi.
The guidelines of the Finnish Institute of Occupational Health (FIOH) are drawn up together with the Ministry of Social Affairs and Health (SMAH) and the Finnish Institute for Health and Welfare. We also follow the publications of the European Centre for Disease Prevention and Control (ECDC) and the World Health Organization (WHO).
European Centre for Disease Prevention and Control (ECDC), COVID-19